The challenges we face today are complex. They require collective action across all levels of society - in our personal and professional lives, and at the societal and national scale too.
As a Leader of Change, you will master the issues and co-create solutions alongside the UAE's brightest minds. You will volunteer for nature, in nature, with your community as well as your loved ones.
Together, we will drive transformative impact at scale across the UAE and beyond.
How it works
Train
Master the issues. Make a bigger impact.
Cultivate your skills with expert-led training courses and certification.
Ideate
Lead the conversation. Co-create solutions.
Co-create the blueprint for sustainable development with our community of changemakers.
Act
Walk the talk. Volunteer for nature.
Participate in unique activities and work alongside our conservation experts on exclusive once-in-a-lifetime field trips.
How we are making an impact
Every activity in this programme contributes directly to environmental conservation in the UAE.
Explore our missions
Take part in as many missions as you can and help build a world where people and nature thrive.
Become a Leader of Change
Sign up today
About Emirates Nature-WWF
The health of nature and humanity are closely intertwined – and both are at stake.
Emirates Nature-WWF created Leaders of Change to empower people across the UAE to make a bigger and better impact for nature with every action they take.
We aspire to drive transformative impact at every echelon of society, by embedding conservation and sustainability into the DNA of every student, individual, organisation, corporation and government entity.
With over twenty years of conservation experience, working alongside amazing partners locally, regionally and internationally, we are uniquely placed to nurture this community of changemakers, connect them with influential decision makers, and inspire the next generation of consumers, leaders and innovators to live sustainably.
We are on a mission to make the biggest possible impact for our environment. Together, we can.
Our Partners
With the support of our partners, we work towards a sustainable future for ourselves and generations to come.
Our Partners
Our impact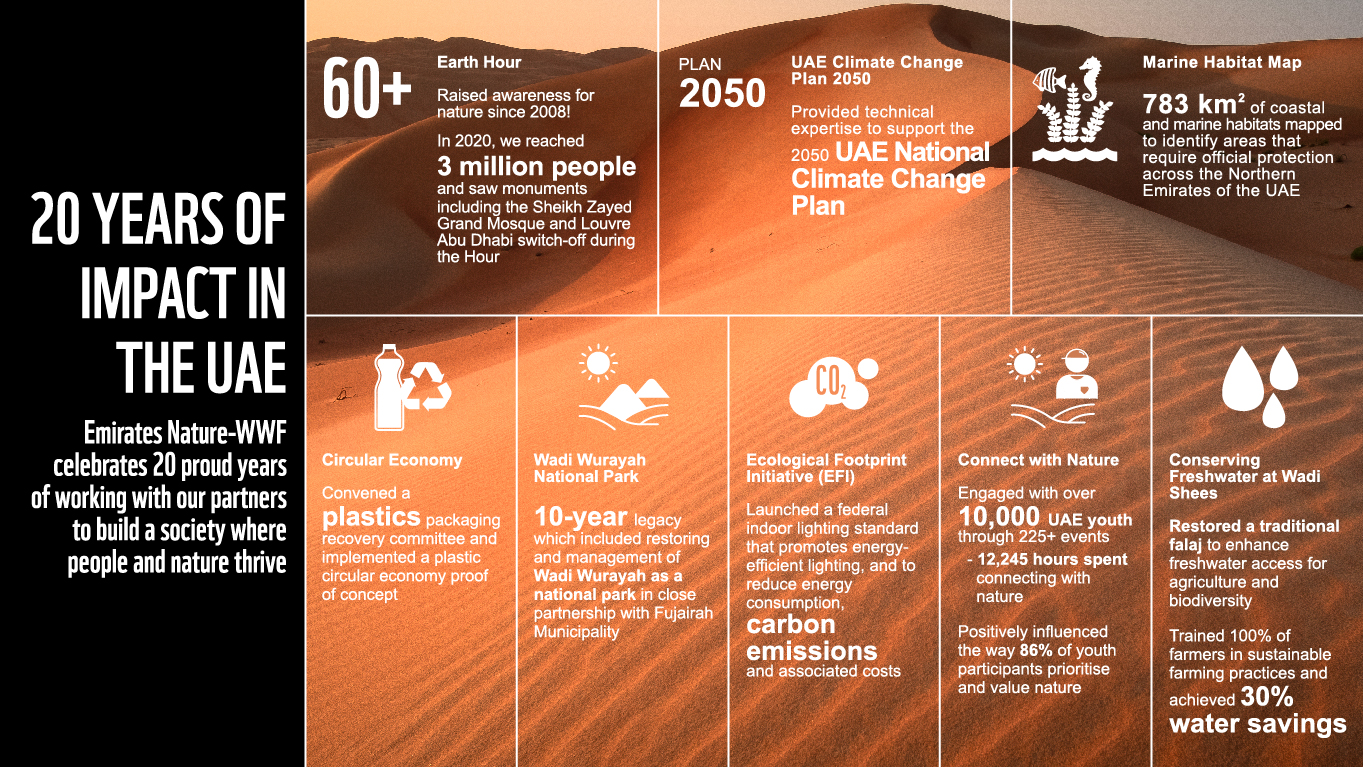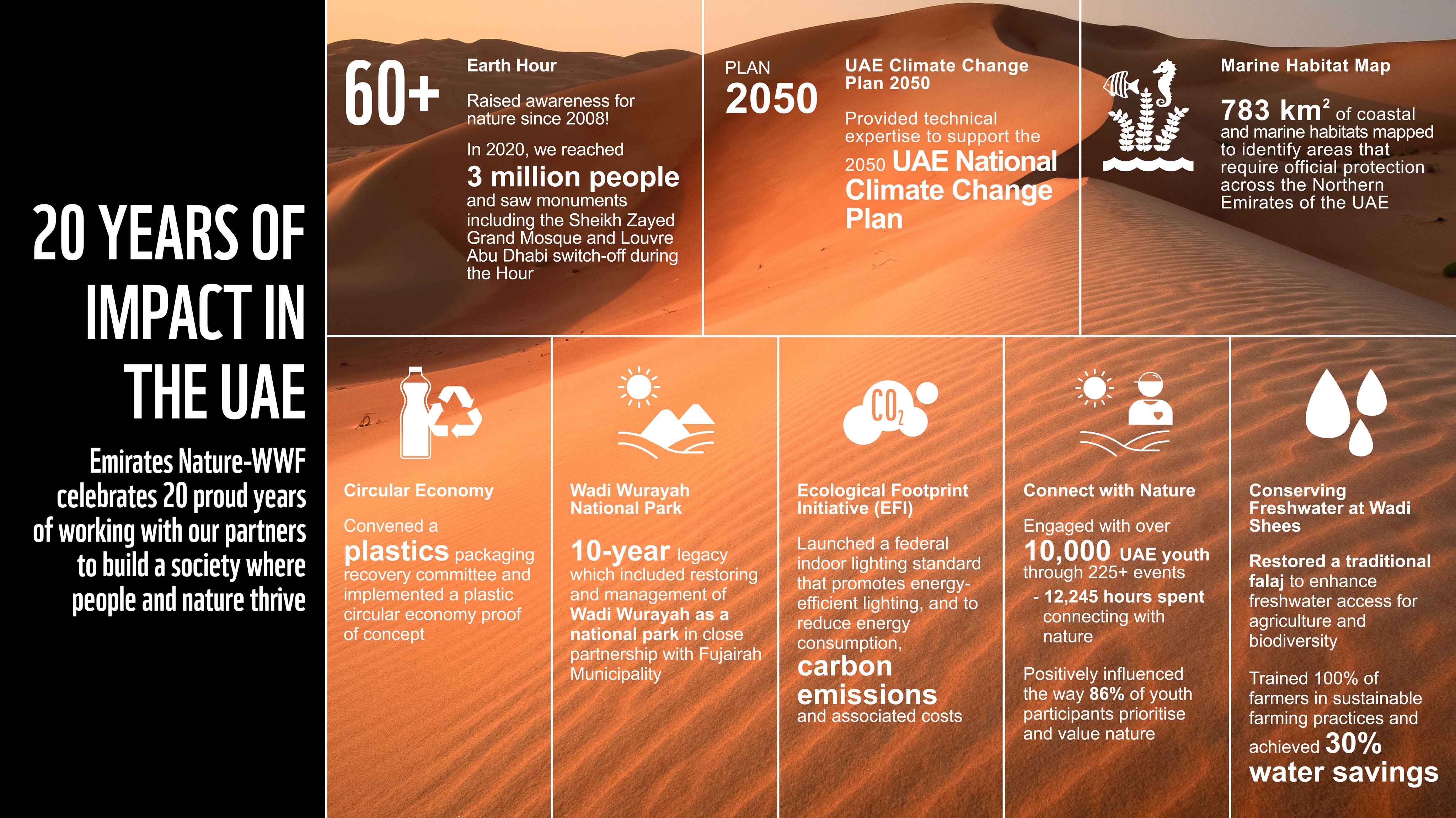 Our impact
20 Years of impact in the UAE
Emirates Nature-WWF Celebrates 20 proud years of working with our partners to build a society where people and nature thrive
60+
Earth Hour
Raised awareness for nature since 2008!
In 2020, we reached 3 million people and saw monuments including the Sheikh Zayed Grand Mosque and Louvre Abu Dhabi switch-off during the Hour
UAE Climate Change Plan 2050
Provided technical expertise to support the 2050 UAE National Climate Change Plan Marine Habitat Map
783 km2 of coastal and marine habitats mapped to identify areas that require official protection across the Northern Emirates of the UAE Circular Economy
Convened a plastics packaging recovery committee and implemented a plastic circular economy proof of concept Wadi Wurayah National Park
10-year legacy which included restoration and management of Wadi Wurayah as a national park in close partnership with Fujairah Municipality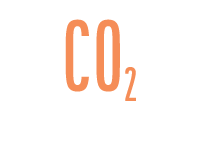 Ecological Footprint Initiative (EFI)
Launched a federal indoor lightning standard that promotes energy-efficient lighting, and reduces energy consumption, carbon emissions and associated costs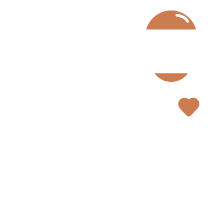 Connect with Nature
Engaged with over 10,000 UAE youth through 225+ events
12,245 hours spent

connecting with nature
Positively influenced the way 86% of youth participants prioritise and value nature Conserving Fresh Water at Wadi Shees
Restored a traditional falaj to enhance fresh water access for agriculture and biodiversity
Trained 100% of farmers in sustainable farming practices and achieved 30% water savings